Friday, August 27, 2021 - Friday, August 27, 2021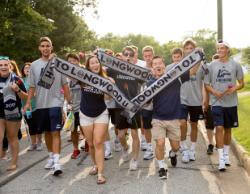 The annual First Friday Back and The G.A.M.E. (Greatest Athletic March Ever) event will take place on Friday, August 27.
Event Time

3:30PM
Location

Stubbs Lawn
2021 marks the fifth annual Welcome to the City series, regional events designed to help Longwood's newest alumni—and your new neighbors—discover the best places to live, work and play in Norfolk. After a one-year hiatus, we are incredibly to finally have the opportunity to celebrate both the Classes of 2020 and 2021!
Event Time

5:00PM
Location

Fishin' Pig | 119 West 25th St.