The Lancer Card is the official identification card of Longwood University. The Lancer Card is also a multi-functioning campus card.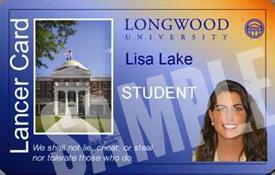 In addition to serving as a form of identification to access university facilities, the card also serves as a stored value campus debit card. It carries your meal plan, bonus dollars and Lancer CA$H account.
Adding a or depositing funds to your will allow you to make purchases in several on-campus locations including washers & dryers on campus, Coke vending machines, snack vending machines, all Campus Dining locations, Longwood Printing Services, Greenwood Library, Longwood Mail Services and the Barnes & Noble Bookstore.
Purchases can also be made with your Lancer CA$H account at participating off-campus locations such as McDonalds, Sheetz, Buffalo Wild Wings, Papa Johns, Pinos Italian Restaurant, Bojangles and now Subway!! - just to name a few.
Please note: ID Cards and photos are the property of Longwood University and may be shared within the University for administrative purposes.
Mission Statement
The Lancer Card Center is committed to providing Longwood University with a high-quality, single card system that allows convenient and efficient access to all card-related services. Our staff is dedicated to providing customers with courteous, timely, efficient and effective service including seeking new, expanded uses of the card through improved advanced technology. Our services include ID card production, database management, meal plan management, management of the debit account (Lancer CA$H) and coordination with the Integrated Security Office to provide access solutions.