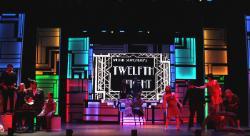 The intimate 125-seat Mainstage Theatre in the Center for Communications Studies & Theatre is located at the south end of campus on the corner of Franklin & Race Streets.
Ticket Information
Online Ticketing:
Tickets can be purchased online HERE.
Where is the box office?:
The Box Office operates from the first floor of the Center for Communication Studies and Theatre during the hours of 1:30 p.m. to 5:30 p.m., Tuesday - Friday, and will be open one hour prior to show times to handle only that evening's business.
ADVANCE RESERVATIONS RECOMMENDED
Regular Ticket Prices:
$8 Longwood Students (Longwood ID required)
$10 Senior Citizens, other students, & Longwood Faculty & Staff
$15 General Admission
General Information:
Tickets must be purchased at the time of a reservation. No tickets will be held without payment. Payment by cash, Lancer Cash, check, or credit card. Please be advised there is a convenience fee for credit cards. Exchanges must be made in advance of the show date on your ticket. At the time of exchange, the ticket must be presented at the box office. Exchanges are at the box office manager's discretion. There will be no refunds.
Sold-out Show Policy: In the event of a sold-out performance, any tickets not presented by 5 minutes to curtain (the start of the show) are subject to be re-sold. On sold-out nights, a waiting list will be available in the lobby at 6 p.m. on a first-come, first-served basis (no names taken by phone).
**Seats in the Mainstage Theatre and Lab Theatre are General Admission. Arrive early to choose the best seats in the house.**
Shows start promptly. No late admission, and no refunds.
For questions concerning disability access, call 434.395.2392 (v) or 711 (trs).