Event Time

12:00 AM
Location
Items are handmade, well-crafted by the Longwood University Art Department students and faculty. Pieces for sale will range from ceramics, jewelry, and more.
Event Time

10:00 AM
Location

Bedford Hall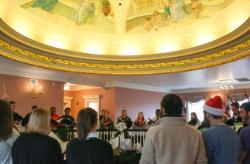 The Camerata Singers will carol in the Rotunda from 11:30 a.m-12:00 p.m. and in the Library from 2:00-2:30 p.m.
Event Time

11:30 AM
Location

The Rotunda and The Library

Tenure Track Portfolio Workshop
Event Time

2:46 PM
Location

Allen Hall 310
Event Time

5:00 PM
Location
Over 100 student musicians, from the Wind Symphony, Camerata Singers, Chamber Singers, Jazz Ensemble, and Flute Ensemble, all directed by Longwood faculty, will perform traditional favorites while guests enjoy a festive dinner and concert.
Event Time

5:45 PM
Location

Dorrill Dining Hall

Tenure Track Portfolio Workshop
Event Time

2:46 PM
Location

Allen Hall 310

Tenure Track Portfolio Workshop
Event Time

2:46 PM
Location

Allen Hall 310

Tenure Track Portfolio Workshop
Event Time

2:46 PM
Location

Allen Hall 310

Tenure Track Portfolio Workshop
Event Time

2:46 PM
Location

Allen Hall 310