Wednesday, February 13, 2019 - Wednesday, February 13, 2019
Learn about the Longwood@Yellowstone program. Open to Students of all majors!
Event Time

4:00PM
Location

Chichester G04
Event Time

12:00PM
Location

Maugans Alumni Center Powell Conference Room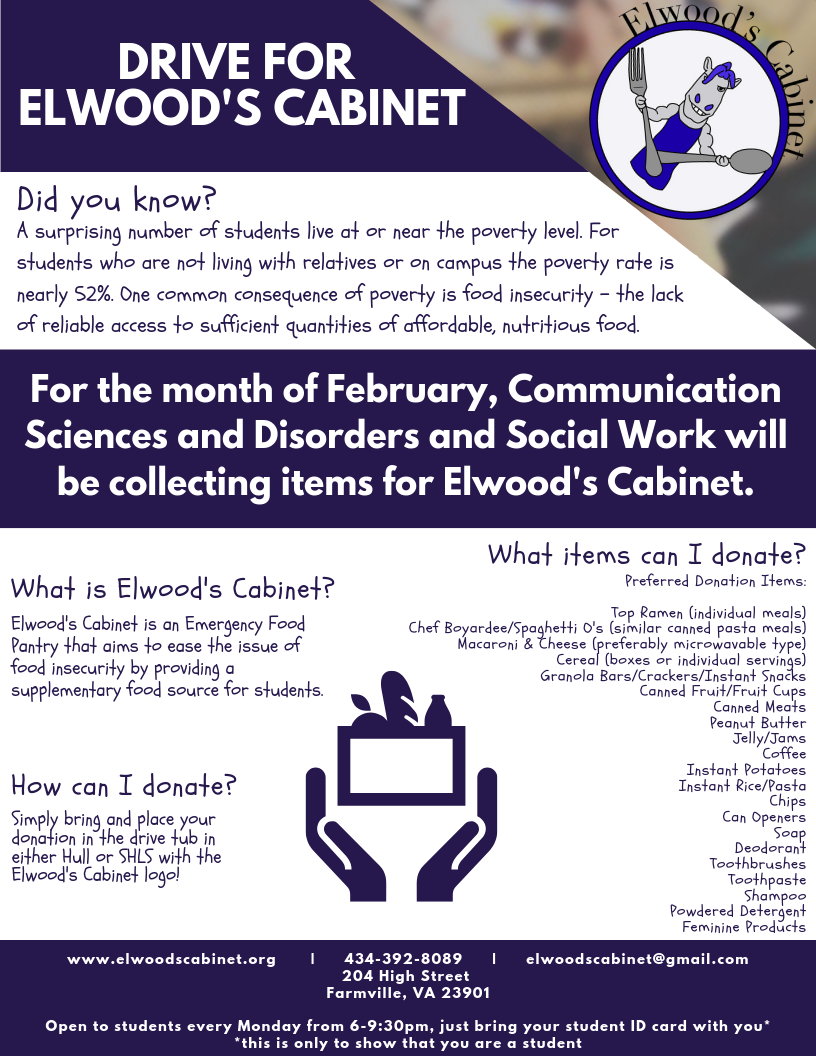 For the month of February, Communication Sciences and Disorders and Social Work will be collecting items for Elwood's Cabinet. You can donate items and drop them off in Hull, Social Work Suite or at the Speech, Hearing, Learning Services Center, located at 315. West Third St. You will see a tub with the Elwood's Cabinet Logo! Elwood's cabinet is an emergency food pantry that aims to ease the issue of food insecurity by providing a supplementary food source for students. Did you know a surprising number of students live at or near the poverty level? For students who are not living with relatives or on campus the poverty rate is nearly 52%. One common consequence of poverty is food insecurity- the lack of reliable access to sufficient quantities of affordable, nutritious food.
Event Time

3:34PM
Location

Collecting goods in Hull and at SHLS
Explore how important music is to leadership development.
Event Time

6:00PM
Location

Upchurch University Center Simpson Room (313)
See who we'll crown as the next "Mr. Longwood"!
Event Time

7:00PM
Location

Jarman Auditorium
Event Time

7:00PM
Location

Upchurch University Center Simpson Room (313)