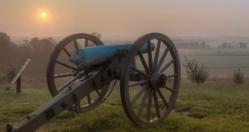 23rd Annual Civil War Seminar
Saturday, February 12, 2022
8:30 AM - 4:00 PM


At Jarman Auditorium


Join the National Park Service and Longwood University at the annual free Civil War Seminar on February 12, 2022, located in the Jarman Auditorium at Longwood University, Farmville, VA. Noted scholars will present on topics ranging from "The Bahamas to Camp Nelson."

This seminar is free and open to the public. No reservations are needed. Parking is available on the Longwood University campus in the Wheeler Lot.

More information is available from the National Park Service website.