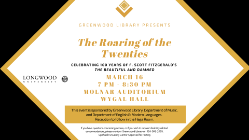 The Roaring of the Twenties: Celebrating 100 Years of F. Scott Fitzgerald's The Beautiful and Damned
Wednesday, March 16, 2022
7:00 PM - 9:00 PM


At Molnar Auditorium, Wygal Hall


Greenwood Library is celebrating their first-edition signed copy of Fitzgerald's 1922 novel, The Beautiful and Damned. It'd be the bee's knees if you could join us to view the book, participate in an academic discussion, and sway to the "syncopated beat of the jazz age" with musical performances from the Longwood Department of Music. Dress in your favorite 20s vintage; reception to follow.