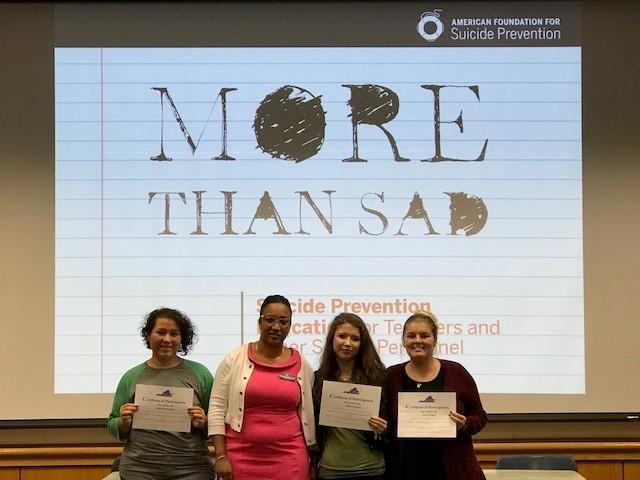 Chesterfield, VA - October 27, 2017, School Social Workers from the State of Virginia and Social Work Students from Longwood University met at the North Chesterfield Library for a suicide prevention and alertness seminar. The Virginia Association of School Social Workers, (VASSW) in collaboration with The American Foundation of Suicide Prevention provided a bi-annual training to educate the community on warning signs of suicide and steps to take to get help for at-risk students. According to College Degree Search, approximately 1,100 college students die by suicide each year (2015). The training modality, More Than Sad and safeTalk has taught over a million students, parents and educators how to be smart about mental health. At the conclusion of training, AFSP's goal is to enable participants to identify people with thoughts of suicide and connect them with life-saving first-aid resources, while contributing to a suicide safer community.

Magdalena Garcia, '18, Social Work, connoted, "I am so grateful that I was given this opportunity to educate myself and now be able to spread the word on suicide prevention and benefit others." Programmatically, the presentation highlighted the necessity of being self-aware and effective when working with those at-risk. SafeTalk's training philosophical thrust is to "recognize when someone may have thoughts of suicide and to respond in ways that link them with further suicide intervention help".

Dr. Brown-Meredith, Professor of Social Work and Board Member of VASSW and Chair of the Richmond Region, sponsored student attendance under the direction of the Department Chair, as a means of encouraging student engagement through the reinforcement of active learning, a departmental thrust. Dalila Christian, Class of '18 "I really loved being surrounded by such powerful women in social work. I am very grateful that Longwood gave me this opportunity to expand my knowledge in suicide prevention." This seminar was especially beneficial for these students, as they were able to talk about what they learned in their social work classes.

Longwood University's, Federation of Student Social Workers (FSSW) benefitted from this collegial networking opportunity as well, as the organization is planning a suicide prevention training on campus as part of their service project on Tuesday, November 28th at 6pm in Lankford Ballroom. Now that these students have this knowledge and are certified in suicide prevention, they will be able to educate others on the signs of suicide, as well as keep an eye out for the not-so-obvious warning signs amongst colleagues and peers. Alexis Walker, Class of '18 noted, "This experience was beneficial to me, because I have been directly impacted by suicide, and it was great to learn intervention and prevention techniques for the future."