Victoria Kindon
Vice President for Strategic Operations
Victoria Kindon is Longwood's vice president for strategic operations and CIO, overseeing the University's efforts to improve retention and graduation, as well as admissions, alumni engagement, university marketing and communications, and technology.
Prior to her arrival at Longwood in 2013, she was a leader at technology firms that provided solutions and strategy for national and regional political campaigns, nonprofits and businesses. Her work with presidential campaigns in particular helped transform constituent engagement across the nonprofit and political sectors. Her areas of expertise include strategic application of data analysis and data integration, fundraising and marketing.
She received a bachelor's degree from Ithaca College and master's degree from the University of North Carolina-Chapel Hill.
Cameron O'Brion
General Counsel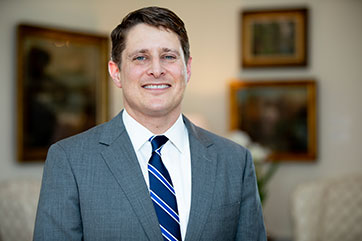 Cameron O'Brion is University Counsel for Longwood University and Senior Assistant Attorney General for the Commonwealth of Virginia.
He provides legal advice and representation to the Board of Visitors, executive officers, administrators, faculty and staff. He also serves as an adjunct professor teaching a course in constitutional law. Prior to joining Longwood, he was an Assistant Attorney General for the Virginia Office of the Attorney General and worked in private practice. He began his role at Longwood in 2012.
He received a bachelor's degree from Gettysburg College and J.D. from Georgetown University.
Tim J. Pierson
Vice President for Student Affairs
Tim Pierson is the University's Vice President for Student Affairs and oversees areas including student housing, campus dining, recreation, student conduct and integrity, the counseling center, fraternity and sorority life, and campus police.
He has worked at Longwood since 1992 and served as Vice President for Student Affairs since 2000. He previously served in student affairs positions at Willamette University and Michigan State University. He is actively involved with the American College Personnel Association and the group NASPA, Student Affairs Administrators in Higher Education. In 2005 he received ACPA's Excellence in Practice Award.
He holds a bachelor's degree and master's degree from Central Michigan University and a doctorate in higher education administration from Michigan State University.
Justin Pope
Vice President and Chief of Staff
Justin Pope is chief of staff and advisor to President Reveley, where he leads strategic initiatives and communications, as well as overseeing day-to-day operations.
Prior to coming to Longwood in 2013, Pope was one of the nation's leading education journalists. From 2004-2013 he was national higher education reporter for The Associated Press, where his work won awards from groups including the Education Writers Association, the AP Managing Editors Association, the Headliners Club and the United Nations. During the 2010-2011 academic year, he was a Knight-Wallace Journalism Fellow at the University of Michigan.
A Richmond native, Pope graduated from Princeton University and received an M.Phil in Economic and Social History from Oxford.
Michelle Meadows
Director of Athletics
Michelle Meadows was named athletics director by Longwood University President W. Taylor Reveley IV in May 2019, ascending to that role from her previous position of Interim Athletics Director following the departure of athletics director Troy Austin.
Beginning with her arrival in 2005, she has enhanced the department's NCAA compliance program with a focus on education and monitoring, she has led the creation and development of the academic services department to provide resources to student-athletes for athletic, academic, career and personal pursuits, and she engineered the collaboration of Longwood's academic services, athletic training and sports performance departments into the student-athlete enhancement unit, which aims to provide a holistically viable approach to student-athlete success.
A Richmond native, she graduated summa cum laude from Virginia Tech with a bachelor of science degree in human nutrition, foods and exercise; and a master's degree in sports leadership from Virginia Commonwealth University.
Louise Waller
Vice President for Administration and Finance
Louise Waller is the University's Vice President for Administration & Finance, serving as the institution's chief financial and business officer and overseeing key operational departments such as Human Resources, Facilities, and Material Management.
Since joining Longwood in 2005, she served as Space Planning and Real Property manager, Executive Director of the Longwood Real Estate Foundation, and most recently the Associate Vice President of Campus Planning, Construction and Real Estate Foundation.
She holds a BS from Virginia Tech, an MBA from Longwood, and is currently pursuing her EdD from VCU in Higher Education Leadership.